Angela Feehely, Owner and Travel Planner
Hi! My name is Angela and I am the owner of Wishes & Wizards Travel Company! I live in Maryland with my husband and two kids, Timmy and Bridget as well as our dog, Buddy and cat, Belle. We have been to many, many fun family destinations but our favorite place by far is Disney and Universal Orlando Resort. I love helping families find great deals for a magical vacation and hope that I can help your family, too!
Diana Kaplan, Manager and Travel Planner
Hi! My name is Diana and I live in Catonsville, Maryland with my husband and three very busy kids! I'm an Army brat so we moved around a lot and as a child, I went to Puerto Rico to visit family every year. I lived in FL and visited all the parks there. I've also visited Las Vegas, Salt Lake City and New York and I'd love to see the west coast one day!
Amy Brocious Babst, Travel Planner
Hi! My name is Amy and I am married to my Prince Charming, Craig, who is a Navy veteran and we are the proud parents of three princesses – Kira, Khloe and Kendall! For years, I have planned all our family trips, and started doing the same for close friends. My three favorite places to travel are Disney, eastern Caribbean cruises, and AI resorts for an adult getaway! A little-known fact about me – I am a Stage 3/4 Hodgkins Lymphoma Survivor and because of this, family is everything!
Jennifer Taylor, Travel Planner
Hi! My name is Jennifer! I live with my husband and daughter in Maryland. We think Disney World is the perfect vacation for my family of three. We love the magical service from cast members, variety of attractions across all four parks and the ease of traveling to Orlando. Our favorite resorts are the Disney Polynesian Village and the Yacht and Beach Club Resorts. We also cruise with Disney once a year. Other destinations that we love to visit are Puerto Rico and Costa Rica.
Lauren Paul, Travel Planner
Hi! My name Lauren and I recently married my husband, Vinnie, in a Disney-themed wedding! We live with our two spoiled dogs, Koda and Twix in Maryland. I fell in love with Disney World during my first trip when I was 4 years old. Since then I've been to Disney numerous times with my family and husband. I've also visited Universal multiple times and, while Disney still holds that special place in my heart, I love how different from Disney it is. I've also traveled on Disney Cruise Line and love to help my friends and family plan magical vacations!
Brandy Copfer, Travel Planner
Hi! My name is Brandy and I am married to my high school sweetheart! We have two awesome kids – Mason, 5, and Madison, 2 . My parents took me to Disney every year from age 6 months (sometimes twice a year) and now my husband and I enjoy taking our kids to Disney as often as we can! We also enjoy going on cruises, to the Caribbean and visiting different islands and try new excursions. Some of my favorite destinations would include St Thomas in the U.S. Virgin Islands, Grand Turk, and Nassau, Bahamas.
Laura Saxton, Travel Planner
Hi everyone! I am Laura and live in Catonsville, MD with my husband, son, daughter, and adorable mutt. Four days a week, I work with really smart kids through a Johns Hopkins program – my particular expertise is science education and summer program administration. I grew up a Disney lover, but not a Disney fanatic. My husband and I picked a Disney land and sea vacation package (Disney cruise and Disney World combo) for our honeymoon in 2005 and since then have been back probably thirty times solo, with kids, or with extended family. We have done commando trips where we have done all four parks in a day (even with a 1-year old baby) and we have done more relaxing trips with naps in the afternoon or leisurely strolls around World showcase as we ate and drank our way through the countries around the lagoon. We have been annual pass holders, have attended special events, gone on behind the scenes tours, and I even ran the Disney marathon in January of 2016 and am training again for 2018. We have been in winter, spring, summer, and fall and while I am not sure I am ready for Christmas or Easter week as a crowd hater, we have seen the Christmas decorations and done Thanksgiving week twice at the land of the mouse. We have stayed at almost every resort on property from value to deluxe and have done some trips using Disney transportation and others with a rental car. While Disney World and Disney Cruise Line are my main areas of expertise, I am eager to help you plan your magical getaway to other Disney destinations, Universal, cruise, or all-inclusive trip!
Carrie Allen, Travel Planner
​
Sheila Hay, Travel Planner
Hi! My name is Sheila! I live in Pasadena, Maryland with my husband and two sons. My family and I love everything Disney. My love for Disney started the first time I walked into Magic Kingdom as a child. Now as an adult I realize Disney is the one place everyone can truly be a kid at heart while on vacation. I first got involved in the company from a long time friend that told me about the job and what it's like to be a travel agent. From booking past vacations for multiple family members, friends, and myself, I was soon convinced to take the job! This company has given me a lot more experience to make your vacation even more magical than before! So, are you ready to book your next magical vacation?
Kara Yuskewich, Travel Planner
Brenna Fiore, Travel Planner
Hi, My name is Brenna! I am a travel agent specializing in all things Disney and Universal. I live about 10 minutes out of Philly in Delaware county! My services are free and I can promise you your trip will be hassle free, enjoyable and relaxing!
Olivia Gould, Travel Planner
Hi all! I'm Olivia, and I live in Washington, DC with my husband Daniel and our two cats. I'm an occupational therapist currently working with older adults. Since my Disney obsession began, I bought a timeshare with the Disney Vacation Club, became a WDW Annual Passholder, have visited WDW numerous times, and also have visited Disneyland and Disneyland Paris several times. I visit WDW about every 1-2 months, and Magic Kingdom is my favorite park. I also love visiting Universal Orlando as often as possible. Outside of my Disney hobby (passion?!), I also love exercising/running (especially with RunDisney), traveling to new cities/countries, and exploring the great city I live in. I'm looking forward to helping many families plan their dream vacation in their dream location!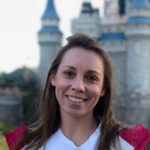 Christy Hines, Travel Planner
​
Becca Heil, Travel Planner
​