Angela Feehely,
Owner and Travel Planner
Hi! My name is Angela and I am the owner of Wishes & Wizards Travel Company! I live in Maryland with my husband and two kids, Timmy and Bridget as well as our dog, Buddy and cat, Belle. We have been to many, many fun family destinations but our favorite place by far is Disney and Universal Parks and Resorts in Orlando. I love helping families find great deals for a magical vacation and hope that I can help your family, too!
Diana Kaplan,
Manager and Travel Planner
Hi! My name is Diana and I am the manager of Wishes & Wizards Travel Company!  I live in Catonsville, Maryland with my husband and three very busy kids! I'm an Army brat so we moved around a lot and as a child, I went to Puerto Rico to visit family every year. I lived in FL and visited all the parks there. I've also visited Las Vegas, Salt Lake City and New York and I'd love to see the west coast one day!
Amy Brocious Babst, Travel Planner
Hi! My name is Amy and I am married to my Prince Charming, Craig, who is a Navy veteran and we are the proud parents of three princesses – Kira, Khloe and Kendall! For years, I have planned all our family trips, and started doing the same for close friends. My three favorite places to travel are Disney, eastern Caribbean cruises, and AI resorts for an adult getaway! A little-known fact about me – I am a Stage 3/4 Hodgkins Lymphoma Survivor and because of this, family is everything!
Jennifer Taylor, Travel Planner
Hi! My name is Jennifer and I travel frequently with my husband and teenage daughter. We think Disney World is the perfect vacation for our family of three. We love the magical service from cast members, variety of attractions across all four parks and the ease of traveling to Orlando. Our favorite resorts are the Disney Polynesian Village and the Yacht and Beach Club Resorts. I have cruised with Disney eight times and have experienced two Royal Caribbean ships. We also have recent travel experience in Universal Orlando, Discovery Cove, Disneyland, San Diego, Alaska, the Grand Circle, Mexico and Costa Rica. My personal travel planning philosophy is to design trips that feature convenience, comfort and a balance of adventure and relaxation.
Lauren Paul, Travel Planner
Hi! My name Lauren and I recently married my husband, Vinnie, in a Disney-themed wedding! We live with our two spoiled dogs, Koda and Twix in Maryland. I fell in love with Disney World during my first trip when I was 4 years old. Since then I've been to Disney numerous times with my family and husband. I've also visited Universal multiple times and, while Disney still holds that special place in my heart, I love how different from Disney it is. I've also traveled on Disney Cruise Line and love to help my friends and family plan magical vacations!
Laura Saxton, Travel Planner
Hi everyone! I am Laura and live in Catonsville, MD with my husband, son, daughter, and adorable mutt. Four days a week, I work with really smart kids through a Johns Hopkins program – my particular expertise is science education and summer program administration. I grew up a Disney lover, but not a Disney fanatic. My husband and I picked a Disney land and sea vacation package (Disney cruise and Disney World combo) for our honeymoon in 2005 and since then I have been back close to 50 times solo, with kids, or with extended family or friends. We have done commando trips where we have done all four parks in a day (even with a 1-year old baby) and we have done more relaxing trips with naps in the afternoon or leisurely strolls around World showcase as we ate and drank our way through the countries around the lagoon. We have been annual pass holders, have attended special events, gone on behind the scenes tours, and I even ran the Disney marathon twice. We have stayed at almost every resort on property from value to deluxe and have done some trips using Disney transportation and others with a rental car. Our family also cruises yearly, and as our kids have gotten older we have added Universal (we love Harry Potter!) and all-inclusive resorts in to our travels as well.  I am eager to help you plan your magical getaway!
Sheila Hay, Travel Planner
Hi! My name is Sheila! I live in Pasadena, Maryland with my husband and two sons. My family and I love everything Disney. My love for Disney started the first time I walked into Magic Kingdom as a child. Now as an adult I realize Disney is the one place everyone can truly be a kid at heart while on vacation. I first got involved in the company from a long time friend that told me about the job and what it's like to be a travel agent. From booking past vacations for multiple family members, friends, and myself, I was soon convinced to take the job! This company has given me a lot more experience to make to make your vacation even more magical than before, whether it's Disney, Universal Studios, or setting sail on a cruise!
Olivia Gould, Travel Planner
Hi all! I'm Olivia, and I live in Washington, DC with my husband Daniel and our two cats. I'm an occupational therapist currently working with older adults. Since my Disney obsession began, I invested in Disney Vacation Club, became a WDW Annual Passholder, have visited WDW, Disnelyland and Disneyland Paris numerous times. I visit WDW about every 1-2 months, and Magic Kingdom is my favorite park. I also love visiting Universal Orlando as often as possible. Outside of my Disney hobby (passion?!), I also love exercising/running (especially with RunDisney), traveling to new cities/countries, and exploring the great city I live in.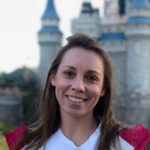 Christy Hines, Travel Planner
As a child my parents took us camping and exploring all the time. While in college I had the opportunity to study abroad in Barcelona, Spain. During that semester I planned out travel for my now husband and I to Paris, Marseille, Budapest, Prague, Madrid, Sevilla, Glasgow, Edinburgh, London, Brussels, and Vienna. It was an experience of a lifetime! My love of travel has continued, especially now that I have a family. I love exploring new cities and towns as well as getting in quiet, relaxing retreats. We have visited Disney World and Universal Studios several times and have cruised with Disney Cruise Line and Royal Caribbean. We spent a year in Los Angeles and had annual passes to Disneyland. I enjoy coordinating school schedules, budgets and seasonal changes to find the perfect travel experiences.
Becca Heil, Travel Planner
​I am the Midwest's resident Disney fanatic, but I didn't find my love for the Mouse until adulthood. Since that time, our family has traveled multiple times to both Disney World and Universal Studios; I consider myself the planning queen and love making detailed itineraries for Disney World. We have, however, totally fallen in love with the laid back, but elegant, atmosphere Disney Cruise Line provides and feel so passionate about sharing our love for Disney Cruising!

Jamie Smith, Travel Planner
I am a lifelong Disney fan currently living outside of Pittsburgh in Indiana, Pennsylvania.  I have been going to Disney since I was three years old and have been lucky to have been there over 50 times in my 26 years. I grew up closer to Pittsburgh in a town that had an amusement park just ten minutes away and my family has always joked that we have been to Disney more than we have been there. Not only do I love going, but I also feel like I discover something new every time I go. Apart from my love for all things Disney I also have a passion for local government, having served on my local borough council. I look forward to having the opportunity to share my knowledge of Disney and help your Disney Destination vacation to be as magical as possible.
Sara Booco, Travel Planner
My family loves to travel! My husband and I have relaxed at four different all-inclusive resorts in Jamaica. We've also been to New Orleans, the Gulf Coast, Washington D.C., Las Vegas, The Grand Canyon, and Key West. Now that we have kids, we enjoy going skiing in various locations including Breckenridge, Park City, Vail, and Keystone. We also travel with our extended family every year to Kiawah Island on the Carolina coast. All of these places are great, but our most fun travel destination is Disney World!
Siumei Leung, Travel Planner
Hi, my name is Siumei Leung. I grew up in New York and now live with family in Fort Lee, New Jersey. I love traveling and have been to countries in Asia, Europe and many places in U.S. and Canada. One of my favorite destinations is Disney World. I have two wonderful children and they visited Disney World for the first time when they were 3- and 4-months-old. It was so lovely to see the cute expressions on their little faces. There's really no age too young or too old for Disney, it is truly a place for everyone. Ever since then, Disney World is our annual family trip or sometimes twice a year. I often offer travel tips and suggestions for family and friends even before I was a travel agent. I would love to help you plan your vacation that would leave everlasting sweet memories.
Krista Clark, Travel Planner
Hello! I'm Krista — Ariel doppelganger, Hufflepuff — and I live in Bethlehem, PA with my new husband and prince Michael. As a professional fangirl, Disney and Harry Potter are my biggest clients 😉 My proposal happened in the Magic Kingdom next to Cinderella's castle, our wedding had a fairytale touch, a wall shrine to Potter paraphernalia adorns my home, and I've been to numerous wizard festivals and parties over the years. Disney and Universal trips tally multiple times and I love everything about their magic, so helping others experience it themselves is a dream come true. I have been an avid traveler for the past 10 years and "planner and researcher" is my constant title. Tour guides and agents have asked me many time if I was in the business… well now I can say that I am! In addition to Disney, I have organized trips to England, Scotland, Italy, Greece, Spain and Central Europe. You can rest assured that vacation prep will be nothing that my stash of pixie dust and wand can't handle! When I am not obsessing over travel, I am a health mentor so I will be able to provide tools for stress management, tantrums, and sick prevention – motion + viral – for your trip as well! Let's talk soon, I am all (mickey) EARS.
Karinne Summerlin, Travel Planner
Hi! I'm Karinne and I currently live in Saraland, Al with my husband, two children and three fur babies. We have a need for traveling and exploring new places. Over the past four years Walt Disney World and Universal have been our Children's picks for our family vacations. This year was our first time staying at an All Inclusive resort and we fell in love. We have cruised to Mexico and the Bahamas and plan to do an Alaskan Cruise in the future. I feel like traveling fills my soul with joy, I haven't been everywhere but its on my list. RS and already excited to make your magical dreams come true!
Brittany Famighetti, Travel Planner
Hi there! My name is Brittany, and I'm a travel enthusiast living in New York. I take trips all over whenever I can, but Disney will always have my heart. I can even proudly call myself an alumni of the Disney College Program! I've mapped out dozens of dream vacations for myself, family and friends throughout all of the parks in Florida, as well as adventures overseas and across the country. I ensure that every detail is accounted for in my itineraries – from the most spectacular shows to the most breathtaking sites and the hottest restaurants. Making magic and memories is always my priority!

Lindsey Markwood, Travel Planner
Hi everybody! My name is Lindsey and I was born and raised in Atlanta. My family loves to travel to Orlando, which is our destination of choice. We've been to Disney too many times to count. Every trip we experience something new: restaurants, tours, water parks, resort-only vacation, festivals, and the list goes on and on.  My family loves Universal! Volcano Bay is our favorite spot there. We also love stepping into Harry Potter world. It is so much fun watching my kids' faces as they taste Butterbeer! We've cruised throughout the Caribbean and enjoy making memories through our travels. I cannot wait to help you plan your next vacation!
Amanda Schienle, Travel Planner
I grew up traveling to Walt Disney World and Universal Studios Orlando and taking Disney Cruises, but really got into planning trips for family and friends about 7 years ago. Since then, I have been to the parks many times and try to go a few times a year! My favorite part about getting to visit frequently is staying updated on all of the new experiences they have to offer and trying new restaurants and snacks. I am currently planning my first trips to Disneyland and Aulani and have also traveled to other destinations such as Mexico, Italy, and France (including Disneyland Paris!).
Macy Dwyer, Travel Planner
Hello everyone! My name is Macy and I live in Alexandria, VA working as an interior designer for commercial spaces. I am a proud alumni from the Disney College Program as well as the Disney Professional Internship program. My family and I are not only Disney obsessed (visiting at least twice a year), but also love traveling the world to locations such as Romania, Italy, Spain, and South Africa. However, our favorite family vacation spot has always been Walt Disney World in Orlando, Florida. In my spare time, you can find me kayaking or Dragonboating (a 20 person canoe) either on the Potomac or traveling to races across North America and Europe. I look forward to making your next vacation as magical as possible!
Alison Netzer, Travel Planner
I have been traveling since I was young. I went to China in 1986 only a few years after the country opened her doors to tourism, it was a unique experience and most or our trip was dictated by what the government wanted us to see. I sparked my curiosity, I needed to see more, learn more and immerse myself in what the world had to offer. I lived in Spain for a year, traveled Europe, solo traveled through Central and South America. Now I travel with my family. I also write and create a family travel blog.